The Komodo entrance fees are the main concern once you will visit the Komodo National Park, East Nusa Tenggara Indonesia. There are few places where you will have to pay the entrance fees once you visit. The entrance fees of Komodo National Park are valid for both visitors, domestic and International.
Komodo National Park Entrance Fees (Valid January to December 2022):
Komodo Island entrance fee is IDR150.000 per person (working days) and IDR250.000 per person (public holidays)
Sport and recreation fee on Rinca Island IDR100.000 per person
Sport and recreation fee on Komodo IDR100.000 per person
The hiking fee for Rinca is IDR5000 per person
The hiking fee for Komodo island is IDR5000 per person
Wildlife observation for Komodo IDR10.000 per person
Wildlife observation on Rinca Island IDR10.000 per person
The Padar island entrance fee is IDR150.000 per person
The Kanawa island entrance fee is IDR100.000 per person
Snorkeling fee IDR50.000 per person
Dive entrance fee IDR100.000 per person
The Ranger fee is IDR120.000 per group of up to 5 people
Note:
The Komodo entrance fees are subject to change without any notice.
All the entrance fees will pay directly to the Komodo National Park authority.
The total amount of the entrance fee payment is based on your activities taken.
New Komodo Entrance Fee Policy
According to the East Nusa Tenggara provincial head of tourism, the New Komodo Entrance Fee will effective in January 2023. However, these new entrance fees apply only to Padar and Komodo Island.
The new plan on the amount of Komodo entrance fee is IDR3.750.000 per person. This is a significant raise from IDR150.000 per person which is going to 25 times. Due to this new policy, there will probably some of the tour arrangements will be set to the new arrangements instead.
We will publish any updates on the tour arrangements on this website. However, we will still wait for the official information from the Indonesian tourism department.
NEWS: The plan on raising the Komodo National Park Entrance Fees has been canceled by the Indonesian government. Indonesian Ministry of Tourism Mr. Sandiaga Uno announced at a press conference on 15 December 2022 in Jakarta.
The result of this press conference is that the Valid Komodo National Park entrance fee for 2023 is IDR500.000 per person. This cost is for all the places to visit in one go on your Komodo boat trip.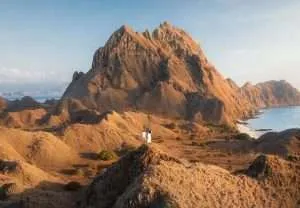 About the Komodo National Park
The Komodo National Park is the place where the world's largest lizard Komodo dragons are inhabitants. There are two islands where most Komodo Dragons are found, Rinca and Komodo Island. On these two islands, you will also find other wildlife. Deer, birds, buffalo, wild pigs, and snakes are the most wildlife found.
Komodo National Park also offers beautiful landscapes, beaches, and amazing underwater marine life. Padar Island and Kanawa island are two amazing islands to enjoy a spectacular while you do Komodo tour packages. You can also enjoy a beautiful pink sand beach which is located on the north side of Komodo island.
For those who want to do diving, Komodo National Park is very recommended. The park is one of Indonesia's famous underwater marine life. You can explore the untouched world-class dive site with beautiful coral gardens.