The speed boat is a perfect choice if you want to do a short Komodo Island exploration. Our high-speed boat offers a full day of Komodo exploring. We also offer 2 days or more, but you will not overnight on the boat. So you will spend 8 to 10 hours exploring each day, and then back to Labuan Bajo.
We provide 2 types of high-speed yachts, the standard, and the luxury yacht. The standard boat will only provide some specific facilities such as toilets, and the boat design itself is using standard materials. All the boats are comfortable for the Komodo full-day exploring.
The luxurious high-speed yacht provides high-standard facilities, such as Air conditioners, toilets, and many more. Also the boat design, body, and interior are luxuries; the services are also of a high standard. It is much more comfortable with the luxury touch of our team.
Best Komodo Speed Boat Charters
All of the speed boat lists on our site are the best selections with professional boat crews. We ensure that you will have a great Komodo exploring with our best selection of boats.
Here below are our recommend Komodo speed boat charter:
Aquamarine high-speed yacht
Ilario high-speed yacht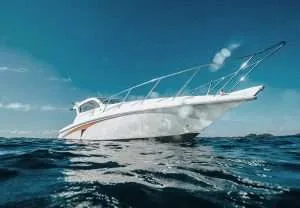 Those above boats are the best recommendation for your great full-day Komodo exploration. These luxury boats are departing daily from Labuan Bajo. Space is depending on availability, check through the search box for details.
At the moment our speed boat charters are only available for Komodo National Park exploring. We do not provide any other routes. Make a booking in advance to keep your space, especially for the peak season, between July to August every year.
The Places to visit
Here below are the most places to visit on your Komodo day trip:
Komodo Island
Rinca Island
Kanawa Island
Padar Island
Red Beach/Pink sandy beach
Manta Point or Taka Makasar
Manjarite Beach
Kelor Island
The above places are the most recommended. There are some more places you can visit. It depends on your time spent.
Most of the visitors spend 8 to 10 hours at Komodo National Park. You can book the Komodo private speedboat online. We offer slightly best price for a convenient Komodo trip.
Note: You may custom the places to visit, just let us know if you want that way.